Black Friday deals are not only for clothing, toys, tech items and furniture.  I have also found some very good wine deals to help enhance your holiday shopping and meals.
As we all know wine is the favored and most sociable drink for any occasion.  With the Holidays upon us, make sure that you have a bottle or case on hand.  Wine goes with just about anything you can cook or eat.  Chips and salsa, pizza and pretzels, even a fine meal of smothered mushroom chicken over a rice pilaf served with steaming broccoli spears coated with butter deserves to have a great wine.  Red or white, the choice is yours.
The best part is that with all these wine companies out there vying for your business you can now get these fine wines at very reasonable prices.  If you just want to order a few bottles here and there or if you want a shipment every month, we have the opportunity for both.
Macy's – The Original Christmas Store
Macy's has a great wine cellar that will deliver right to you.  You have the option of choosing wines that you prefer from sweet, dessert, fruity and bold.  We all have our preference.  Now you can get those wines at a very low price just in time for the holidays.  Check out this great deal.
Now that is a deal worth getting and you don't even have to leave  your couch to order it!!
Okay so that takes care of the immediate need for wine.  What about the rest of the year when you have that unexpected dinner guest, or you forgot someones birthday or promotion at work.  Let's not forget about all the baby showers, bridal showers, birthday parties, barbecues, picnics and graduations that popup throughout the years.  And yes, there are those intimate, romantic interludes that you want to plan with your significant other that a great bottle of wine would inspire some really good time. Then there are those time after a hard, busy day that a soak a nice hot bubble bath with your favorite glass of chilled white or deep red wine just sets your day in order.
WHAT!!! You don't have any wine readily available?! Well don't worry, I have a couple great wine clubs that will be more than happy to help you with your supply and demand of great fine wines.
Rock-N-Roll with Virgin Wines
Rock-N-Roll and wine is a unique concept. Virgin Wines was on this concept.  Now you can drink wines inspired my music from some of your favorite Virgin records artists.  From Kiss, Rolling Stone to the Police are just a few of the  inspirations that have defined this wine club.  You can join today and enjoy great wines with a unique story behind each and every wine.
Wine of the Month Clubs
So you need wine on a monthly bases and didn't even know it.  See what you can discover by reading a blog!! Well don't panic, I have the solution for you.  Join a wine club.   There are several good ones out there for you to choose from.  Some even deliver to other countries for those friends and family that you don't get to see that often.
Have a look at these great wine clubs and chose the one that is right for you and your needs.
6 Boutique Wine for Only $6.99/bottle
I have saved the best for last.  This is the
wine club
that I am a member of and I get wines from all over the world from small exclusive vineyards from all around the world to well-known vineyards that you can only get their wines exclusive through this club.  This wine club also can market to the UK, Germany and Australia, for those of you who have friends and family there. Right now, they are having their own Black Friday Wine savings.
Check it out.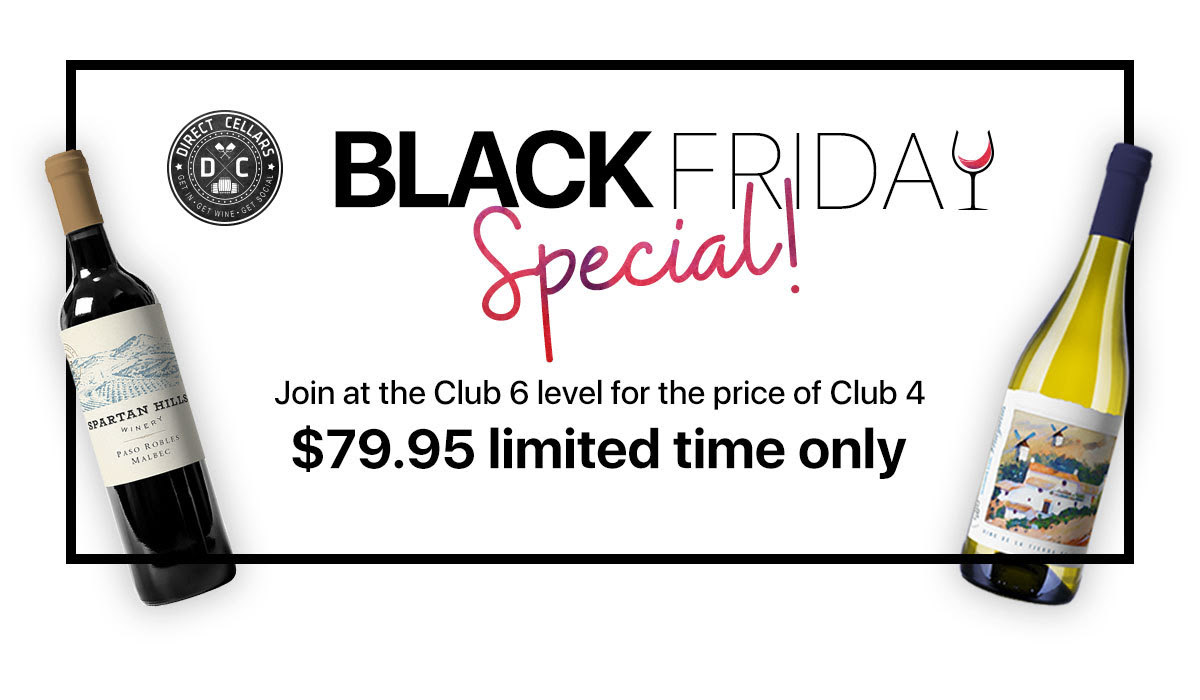 The biggest shopping day of the year is almost here… And we want to let you in on a little secret early! 
Now through Sunday, New VIP Customers can save an extra $20 off* when they sign up for our Club 6 monthly wine level.
 No Way Chardonnay!
If you know someone that's been curious about exploring the world of wine, reach out to them right now! Or better yet, follow up using our brand new Direct Cellars Connect app! Let everyone know that for a limited time they can join for a seriously discounted rate during our Black Friday special!
There's never been a better time to become a VIP Club Member.
And… If you're not participating in our
3 and FREE program
this is a great time for you to share more about our club with others and uncork the rewards! Simply sign up 3 new VIPs and your monthly order is FREE!
Cheers,
Your Partners In Wine
*Normally a $50 club savings now with an extra $20 off your first monthly order = BIG SAVINGS of $70! (Offer good on first-month order only.)
So you really have no excuse now not to get started  immediately with one of these amazing wine offers.